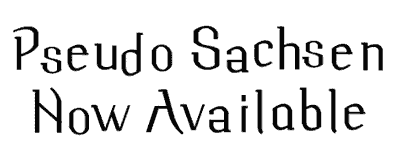 i designed and digitized this font, Pseudo Sachsen, a couple years ago for use on PC or Mac Platform (usable like any other font). there are several alphabets influencing these letterforms from a handful of medieval european tribes. i researched alphabets from the visigoths, goths, saxons and others to illustrate the influence they had in the development of the romans' alphabet before these people ultimately succeeded in the defeat and downfall of the roman empire. the written article and both font versions will soon be available, so check back soon for further info on either obtaining the booklet w/CD or downloading the files.
This Link
from the esteemed typography site
www.typophile.com
shows a few steps taken during my design process and offers a look at the complete set of characters in the alphabet.