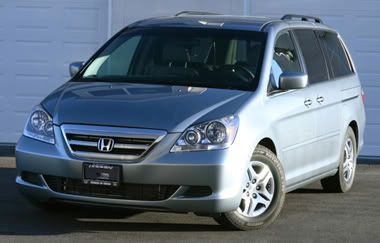 Above is a photo of our new (color: slate green metallic) 2007 Honda Odyssey EX. We have had it for eleven months, and now feel qualified to write an owner's review. We have four young children, and bought it right before #3 and #4 (twins) were born. I was set on buying the new Honda Pilot until we discovered we were having twins. At the dealership we were hoping to get one of the last '06 models, of which they had the last one in the state. It was white, we wanted a silver or metallic color. I kept looking at the one we bought (pictured) and he said he could sell it to me for the same price they were letting the last '06 go for. (It was also the last day of the month) We felt it was a good deal, plus it was the car we knew we were going to want with 4 kids.
(15.Oct.08)
This van has power! We've owned three Accords since being married, all with 4-cylinders, and to have the V6 in the van makes all the difference. 244 Horse Power is no slouch in any vehicle. We've averaged about 23 mpg on our many road trips, nowhere near the 34+ mpg I still get in my '00 Accord EX with 157k+ but decent nonetheless. We've had the 8-seat option in when the twins were babies, so my wife could sit between them when needed in the middle row, but now we don't have the 8th seat in unless we anticipate needing it when we have extra family around. The older kids love the back row, still a booster seat and car seat for them in the back, but getting them in and out is no fuss at all. The electronic sliding door openers make that very easy. The A/C and heating systems are great, easily customized for driver, passenger or rear. In short, we love the vehicle, it has been exactly what we've needed. We are Honda people though. And now with the new Pilot fresh on the market, I may find a way to trade the van for one of those as the kids get older and we start to lose the car seats... Don't let my wife know.
Here are several other references for Odyssey owners (or potential owners) Have children like we do?
Car Seat Safety Info
We currently have 4 child seats strapped in and love the flexibility and options available in the Odyssey.
Looking for advice online from other Odyssey owners?
Yahoo Honda Odyssey Forum
And of course the online club here:
Odyssey Owners Club
, where you can see photo galleries and read more about what owners do and don't like about their Honda mini-vans.